Ways to Give
BGCSWVA is a tax-exempt organization under Section 501(c)(3) of the Internal Revenue Code (EIN 54-1867366).
By Credit Card – Using our secure online donation portal above, you can make an online one-time or recurring gift by credit card.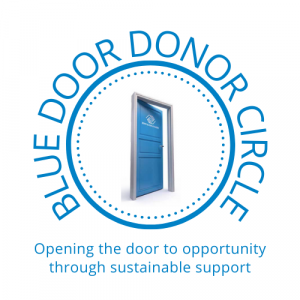 Monthly – Join the Blue Door Donor Circle. Spread your generosity throughout the year through monthly giving. Your recurring support enables BGCSWVA to meet the needs of our Club members today…and well into the future.
Through Stock Transfer – Please contact Emily Pinkerton at 704-512-9427 or epinkerton@bgcswva.org for transfer instructions.
By Mail – BGCSWVA accepts donations via cash or check. Please make checks payable to Boys & Girls Clubs of SWVA and mail to our attention at 1714 9th St. SE Roanoke, VA 24013.
Matching Gifts – Does your company (or spouse's) have a matching gift program? This is an easy way to increase your impact. Click here to use the search tool on Boys & Girls Clubs of America's site to see if you have access to a match opportunity. (Don't forget to come back to www.bgswva.com to make your gift so that your donation stays local and impacts youth supported by Boys & Girls Clubs of SWVA!)
Donor Advised Fund–  Emily Pinkerton, Director of Development, is thrilled to discuss your philanthropic wishes and understand how you would like to support our mission. Please contact her at 704-512-9427 or epinkerton@bgcswva.org.
Planned Gift & Estate Gifts – Speak with our Development team about how your gift can impact future generations! Click here to learn more or contact Emily Pinkerton at epinkerton@bgcswva.org.
In-Kind Donations – BGCSWVA's gift acceptance policy allows for certain In-Kind donations. Each in-kind donation must be evaluated individually, but we welcome the opportunity to speak with you about your in-kind gift!
Cryptocurrency – You can use Crypto for Charity to make a tax-deductible gift of cryptocurrency today! It takes just a few minutes to get started:
Select the currency you'd like to donate (165+ currencies supported)
Choose the amount to donate
Transfer funds directly from your wallet
Receive a tax receipt immediately